Automatic soap dispensers are often used in commercial and home settings. They're appreciated because they work hands-free and keep public areas tidy. So, are automatic soap dispensers worth it?
Automatic soap dispensers are worth it because they provide a convenient and affordable no-touch solution to washing your hands. They can be easily refilled, making them more economical and environmentally friendly. Automatic soap dispensers can also complement your bathroom design.
Intentional and purposeful personal hygiene has become important to families. Read on to learn more about automatic soap dispensers and if you should install them into your home.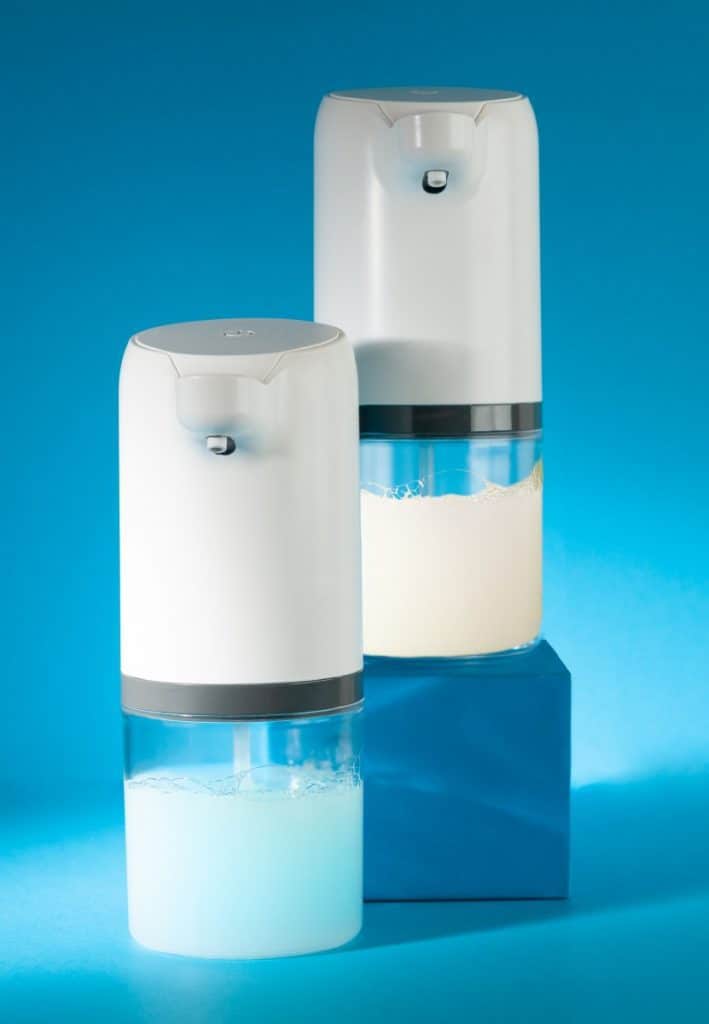 Why Automatic Soap Dispensers Are a Worthy Investment
Automatic soap dispensers come in all kinds of sizes, shapes, and designs, and the ones for your home don't necessarily need to look like the ones you might find in public restrooms. With that in mind, automatic soap dispensers are becoming increasingly popular in many households due to their design varieties and overall convenience.
They help prevent cross-contamination during food preparation, thanks to their no-touch design. They also eliminate soapy messes and clutter, and reduce product waste, saving you money on your soap. 
In fact, Consumer Reports once conducted a comparison study of three different automatic soap dispensers and found that some of the top models were all under $50, meaning that it's possible to convert to automatic units without spending a fortune.
Furthermore, there is far less waste with automatic soap dispensers, so you may be surprised at how infrequently you have to add refills to the dispenser. Though they require batteries, the automatic dispensers use less energy, so the batteries are long-lasting.
Their affordable cost, combined with minimal maintenance, makes automatic soap dispensers a worthy investment for those looking to upgrade their home and family's hygiene routines.
Automatic Soap Dispensers Are More Sanitary Than Manual Soap Dispensers
A study by The National Institute of Health published in 2013 supports the use of automatic soap dispensers. Tests included both bulk refilled dispensers and dispersers using pre-portioned sealed soap cartridges.
The study showed that automatic, touchless dispensers revealed no bacteria contamination in the soap compared to manual dispensers, primarily due to the hands-free process.
This is likely because contact with the soap dispenser nozzle and pump in manual soap dispensers can transfer bacteria from hands to the container. Ultimately, the soap itself can then become contaminated, which defeats the purpose of a soap dispenser.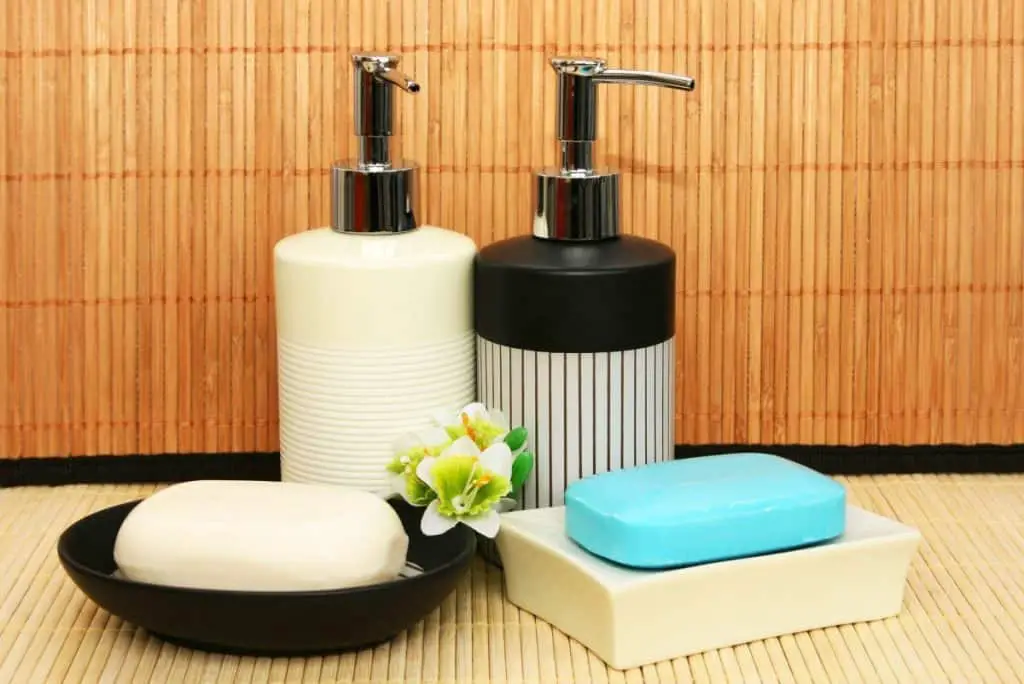 They Promote Better Kitchen and Food Hygiene
Most of us have the experience of preparing and cooking meat. We form meatloaf with our hands, wash chicken, or rub steaks and chops with seasonings. Then, finally, we complete the task, turn with our hands in the air, and grab the soap bottle.
Bacteria may not transfer since you are washing your hands after handling the soap bottle; but it could unless you are vigilant and purposeful about washing the container. 
An automatic soap dispenser lowers the risk of cross-contamination in the kitchen. As a bonus, it keeps the sink area free of soap scum and clutter.
It's also possible to use your kitchen dispenser for dishwashing detergent instead of hand soap, if you find it more convenient.
They're Decorative, Space-Saving, and Practical for Bathrooms
Many bathrooms are small and lack counter space, while others are simply occupied by messier guests. Either way, integrating automatic soap dispensers into your restrooms is a great way to open up space and maintain sanitary practices.
For a less cluttered bathroom countertop, consider using wall-mounted dispensers. They are easily mounted, and refilling is simple. In addition, the designs are minimalist and attractive.
For example, the FreeLeben Touchless Automatic Soap Dispenser from Amazon.com, is a great option. This decorative automatic soap dispenser is available in beautiful and colorful patterns, wood tones, and more, and can give your bathroom a refined oasis aesthetic.
You could also check out the Automatic Stainless Steel Marble Touchless Liquid soap from Amazon.com, if you prefer a more modern, sleek design.
Automatic Soap Dispensers Make Your Shower Area Less-Cluttered
If your shower or bathtub needs decluttering, why not clear some space by adding an automatic soap dispenser? Not only can they be mounted to the shower wall, but they're able to hold your favorite body wash, and can even dispense your shampoo. You'll save space and some product, as each pump is equally measured.
Sometimes, soap bottles can also accumulate dirt and mold the longer they're left on a shelf or ledge in the shower. You can prevent this by reducing the bottles and using a mounted soap dispenser.
I suggest using AIKE Triple Automatic Soap and Shower Dispenser from Amazon.com. You will have no bottles sitting on the tub rim and falling over.
Automatic soap dispensers can ensure your shower area stays clear and is easier to clean moving forward. For this reason alone, the dispensers are absolutely worth the convenience.
They Provide Less Mess and Waste, Especially if You Have Kids
If you have kids in the house, you know how they sometimes use soap — they pump too much soap and create a mess. That won't be a problem if you have an automatic soap dispenser.
A dispenser can sit on the countertop or attach to the wall. Your kids will never waste soap again, as the dispenser will pump out the perfect amount of soap for each use. Most automatic soap dispensers can release between 0.1 ml – 4.5 ml (less than a teaspoon) of liquid at a time.
Then, all your kids have to do is place their hands under the dispenser – and voilà!
Automatic soap dispensers can be practical for kids of all ages, even those still growing. They are usually placed within reach of the sink and can be easier to access for younger children who can't reach over the counter to pump from the soap bottle.
However, if your child is not tall enough to reach the automatic soap dispenser, it's easy to provide a step or stool where they can stand and reach the unit.
For an exciting soap dispenser to put in your kids' bathroom, I recommend checking out Giraffe Cartoons Seven Bubble Auto Soap Dispenser from Amazon.com. It's cute, fun, and bright, so your kids will always enjoy washing their hands with this device.
Conclusion
Automatic soap dispensers are worth it because they provide you with a hands-free solution for keeping everyone's hands germ-free at an affordable price. They are easy to maintain, prevent messy kitchen and bathrooms, and complement your shower area.
Even better, automatic soap dispensers are more gentle to the environment and ensure no soap goes to waste.