If you've experienced any of the above, then you must have wondered why your tablet runs so slow. Has your tablet slowed down or ceased to operate as it used to in terms of speed and responsivity? I understand that a slow tablet can be a real drag, especially in this fast-paced and demanding world. Using an RCA tablet that has slowed down in terms of functionality results in simple tasks such as swiping through photos or switching between different apps becoming less enjoyable and much more frustrating.
To speed up your RCA tablet, go to settings, then storage, and select clear cache. Alternatively, you can download an optimization application to boost and clean your RCA tablet. Also, uninstall your unused apps and update the device firmware.
Tablets come in handy for various daily tasks, including checking emails, keeping up with social media, playing games, and taking photos. Each of these programs requires some memory from your tablet. As such, after some time, you are most likely to exhaust the memory by installing several apps. In turn, exhausting the memory can easily result in your RCA tablet slowing down. Fortunately, in this post, I have prepared several ways you can speed up your RCA tablet.
How Can I Speed Up My Tablet?
While malware is notorious for finding its way into a tablet and slowing it down, it isn't the only reason for the lag in your device. Below are some of the ways you could use to speed up your device.
Uninstall Unused And Unnecessary Apps To Create More Space
Frequently check for unused apps in the list of your installed apps. You may be having too many apps– some of which are of no use to you, thus the need to remove them. On your RCA tablet, head to the Play Store and open Settings. Select apps & games, and on the Installed Apps tab, choose the app you want to uninstall and confirm. Similarly, you can carry this out by holding down the app you wish to uninstall and select delete upon being prompted.
Furthermore, to be more efficient, I recommend that you uninstall the apps that consume more space. You can check the list of applications that take up the most space by heading to Settings, then Applications. Nevertheless, if you do not wish to uninstall an application, say a game that you don't play but yet to complete, you can move it to external storage to back up your progress. This way, you will achieve improved speed without losing anything.
Install the latest software updates
Weaknesses in software and applications allow cybercriminals to attack your devices through viruses and malware that slow them. As a result, ensure that you carry out software updates that help to fix such weaknesses. Installing the updates as soon as they are released reduces the chances of attacks by pesky viruses that slow tablets down.
In addition to fixing bugs and weaknesses, updates require that you restart your tablet, which helps speed your device. Restarting the tablet helps clear cached data, close background applications, and free up your tablet's RAM and processor resources.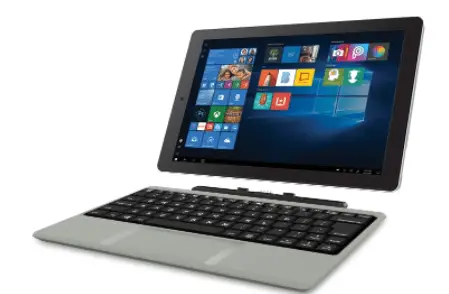 Use Antivirus For Tablets.
Many people fail to realize that viruses and malware can be a problem for tablets too. In addition to slowing your device, having malicious programs on the tablet could result in the loss of key information. To avoid this, use an antivirus on your device such as McAfee Protection, which is compatible across all tablets, PCs, and smartphones.
Do Not Use Unofficial Apps Or Jailbreak
Do not download unverified apps at all costs. Unverified applications include apps that are not in your tablet's Google Play Store. Such apps could be fake r contain malicious objects that become active upon installation on your tablet.
An efficient way of ensuring that you do not install unverified apps is setting your RCA tablet only to allow the download of applications from verified publishers and not to install apps from unknown sources. Moreover, ensure that you heed all warnings from your tablet about risky apps that you are about to download.
Clean Your Tablet's Screen More Often
Your tablet gathers fingerprints and dust on the screen, making the touch screen less responsive. In turn, you may find this very frustrating. Luckily, there is a simple fix to solve this- wipe the tablet's screen clean. Ensure to go through a handy guide to learn how to clean the screen.
Regularly Format Your External Storage
Formatting your tablet's external storage works similarly to running disk cleanup on your computer. Formatting your tablet's external storage regularly, perhaps every three months, could help ensure that your system operates at peak performance.
Should I Purchase The Rca Voyager Tablet?
The RCA Voyager tablet has an affordable price and runs apps from the Play store. However, it has a poor plastic design that makes it feel cheap. Moreover, most users can attest that it has a slow performance while the touchscreen experiences consistent luck. As if that is not enough, the tablet features a pitiful battery life.
Although the RCA Voyager is a great tablet, there are much better options out there as far as its price is concerned. For instance, Amazon fire, which also lies within the price range of the RCA Voyager, is a better option to consider.
A typical bottom-of-the-shelf tablet with barebones features, the RCA Voyager tablet only sells for $50 exclusively by Wal-Mart. That is quite a bargain until you compare it to other tablets other than the Amazon Fire, which trades for a jaw-dropping 50-dollars price considering its specifications and features.
However, you are unlikely to be disappointed in purchasing the RCA Voyager tablet because, really, what would you expect from such a cheap tablet? Besides checking your email, casual web surfing, streaming movies, and light reading, a tablet that goes for 50 bucks wouldn't do much. Thus, thinking that you can replace your laptop with this low-cost tablet is quite delusional.
Compared to the Fire tablet from Amazon, the RCA tablet is slow, unattractive, and lackluster. The only upside besides its enticing pricing is that it can access the Google Play Store, thus offering unlimited access to apps. As such, I recommend that you only purchase this device if you are strapped for cash and do not have another alternative.
Why Is The Rca Voyager Iii Not A Good Option?
It Features An Ugly Appearance
It is no shock that the RCA Voyager is the ugliest tablet I've come across, considering that I have come across many tablets. Or perhaps it's because I'm just fresh from reviewing the Samsung Galaxy Tab S4. Thus, comparing the device, undeniably one of the best tablets in aesthetic appearance, to the RCA Voyager looks like a crime.
Not only is the RCA Voyager III outdated and girthy, which I expect from a budget tablet, but it also features an all-plastic design which is quite offensive. Moreover, the tablet features other bewildering designs that perfectly suggest that RCA and other low-rent companies that licensed the RCA name should probably leave tablet manufacturing for the experts.
The worst aesthetic violation is visible on the tablet's bottom edge, where three dominant screws appear between the power button, headphone jack, and volume rocker. It makes me cringe every time I look at it. Even for a prototype, most tablets would definitely avoid such ugly faux pas.
In addition, the speaker, which is at the back of the tablet, is also another unsightly eyesore. It also features grill holes large enough to allow food crumbs, among other debris, to pass through. I won't even mention the speaker's quality.
To clarify, all low-cost tablets have to cut out something in order to meet their cheap price point. Unfortunately, design is one of them. Compared to the Amazon Fire, the RCA tablet's construction is appallingly poor. It is like the manufacturers didn't put any effort into making it look decent.
Slowpoke
If tablets were animals, then the RCA Voyager would be a sloth. The point is that the device is really slow. Using this tablet will make you appreciate patience as a virtue. Simple games and apps take ages to load. Well, what can I say about websites? Simple browsing of the web feels like a slow-motion chore? You would get more tired of waiting for them to load than you would when using it.
Besides everything taking extra long to load, the tablet would function normally once everything loads completely. But you would pretty much use the tablet for checking your emails, light reading, YouTubing, lurking on Facebook, and watching Netflix movies. Fine until you start scrolling. Scrolling is always slow.
Although the Voyager scored better in my benchmark tests than other tablets, it felt pokey in hands-on use. This was way below the budget tablet standards. Once launched successfully, games will tend to run normally, provided that no apps run in the background. Another common problem across this tablet brand is the choppy graphics in games such as Asphalt 8: Nitro and Airborne.
Although the tablet features a smudge-friendly screen that appears fine- when looked at from the right angle, it has terrible viewing angles. Besides the straight-on view, tilting the screen a few inches in any direction affects the viewing experience dramatically. Similarly, unless you are gaming, it will react swiftly, and swipes and taps always lag. When gaming, every other activity would make it pause and take a few seconds before responding.
It Features Poor Performance
In addition to its frustrating speed, the tablet's performance is also buggy sometimes. For instance, I couldn't get the Vudu app to launch without crashing for several days. It was a pre-installed app owned by Walmart to worsen the issue further, so I couldn't simply uninstall and reinstall it. Also, I was not too fond of the experience when it had to shut down when installing updates randomly.
That's all about the inconveniences surrounding the RCA Voyager tablet. No, wrong. There is the utterly miserable battery life. When streaming video, the battery could only last about three and a half hours. Other tablets within the same range could put in a little more effort and achieve at least seven hours when surfing the web, gaming, streaming videos, or even heavy use such as downloading applications.
It hurt knowing that I could only binge about two or three episodes of an hour-long Netflix show. I couldn't take all these because it featured a big speaker grill which was overkill.
When asked about the extremely short battery service life, RCA responded by claiming that while the life expectancy of the rechargeable battery stood at six hours. However, they claimed that customers might experience different service-span when gaming, viewing media, or utilizing apps that drain the power quickly for extended periods. It would greatly inconvenience you.
It is possible to acquire a decent budget tablet, but not the RCA Voyager. While the performance issue might not be a big factor to consider when looking for a tablet for kids, you may find yourself stranded as an adult if your kid brings it back to you for troubleshooting what's wrong. Depending on your budget, you can get a mid-performance tablet model with a better screen, sleeker design, and longer battery life without digging deep into your pockets for your hard-earned cash.
No jokes intended, but I would hardly accept a $50 payment to use this tablet for fun, at least not with the lag it features. Unless you are a Kardashian or Bezos, you would want to save a buck or two when purchasing a new electronic device. While the best tablets trade for as much as 600 USD, a cheaper and simpler alternative, especially one that goes as low as 50USD, can be quite enticing.
Although the RCA Voyager tablet is a modest device for a low budget price, there are still other alternatives that guarantee you a better experience without giving you a run for your money. For instance, you could choose any Amazon Fire variety, including the Amazon Fire HD 8, which currently goes for $70 away from an initial $90 tag price. In return, you receive a whole lot of performance for a negligible bump in your budget.