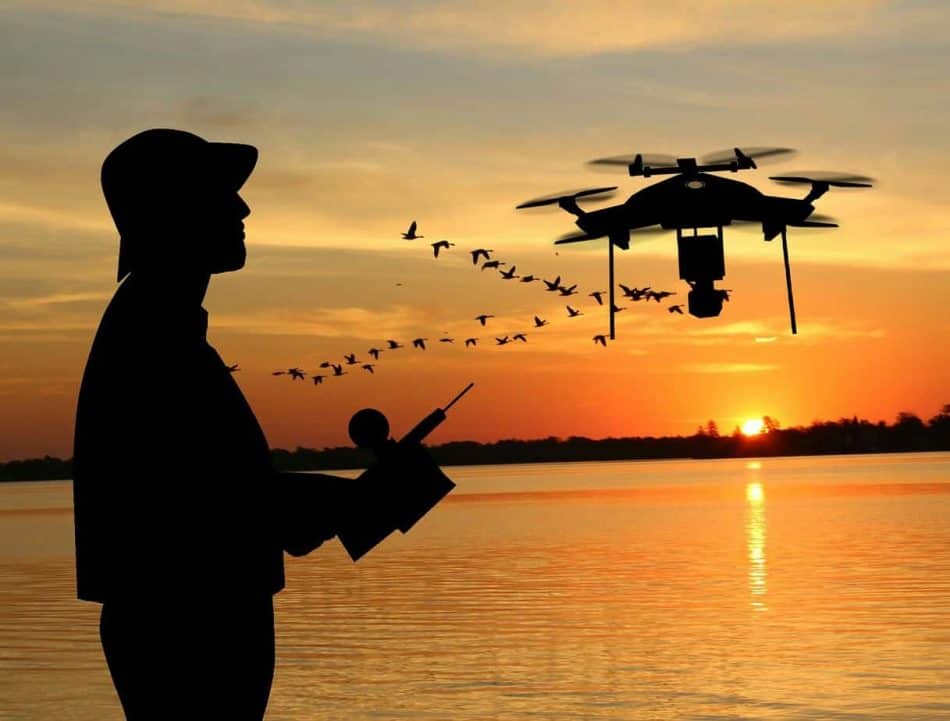 What Fun Things Can You Do With A Drone?
Wow, These Look Like Fun!
I know, this sounds cliché but…. You bought a (beginner) Drone. Now what? When I bought my first drone, I thought to myself, where can I fly this thing? Do I have to register it? But the biggest question I had, and I think most people do as well, other than finding a place to fly is What else can I safely and legally do with this thing?
So, this post is going to focus on a few cool, easy and fun things you can do.  Let me preface this with the following assumptions.
You've, hopefully, figure out whether you need to register your drone. See below.
You have learned to operate and safely fly your new drone
You have flown your drone for a few hours to practice.
You are ready to take the next step!
Do I need and Expensive Drone?
The Drone Hobby has exploded over the last five years. Drones used to be really expensive and with few features and options.
Nowadays, the prices have dropped dramatically. There are more features, sensors, and instruments like GPS, along with better cameras. The best part is the next generation of drones going forward are lower prices, easier to fly, feature-packed, and come with 4K cameras.
11 Easy, Fun and Safe Activities to do with your Drone
Some of you have asked, What can I do with my Drone? I have tried out most of the following list of 11 activates in no particular order.
Join a Local Flying Club
When I first purchased a drone, I bought a small Blade Nano QX (available on Amazon). It was a cold Canadian winter, so I learned to fly indoors. When I finally purchased my 4th drone, I went big (at the time) and bought a DJI Phantom 3 Pro. It is a fantastic quad still to this day, considering it's a few years old.
I got the idea that maybe I should join a local RC Model "Aircraft" Club. Back then Drone Pilots were considered a pain in the a$$. At least in my area. After a while, they started to warm up to our community.
The good news is times have changed and most RC clubs' welcome new pilots of all kinds. It's a fun community. You can fly together, exchange tips and tricks.
If you are a DIY'er and like to build or modify your aircraft, they have swap meets and all sorts of stuff for sale at a great price. A lot of clubs have racing events as well. It can be fun and rewarding to join a local club.
Here are a couple of resources to help you find a local club near you.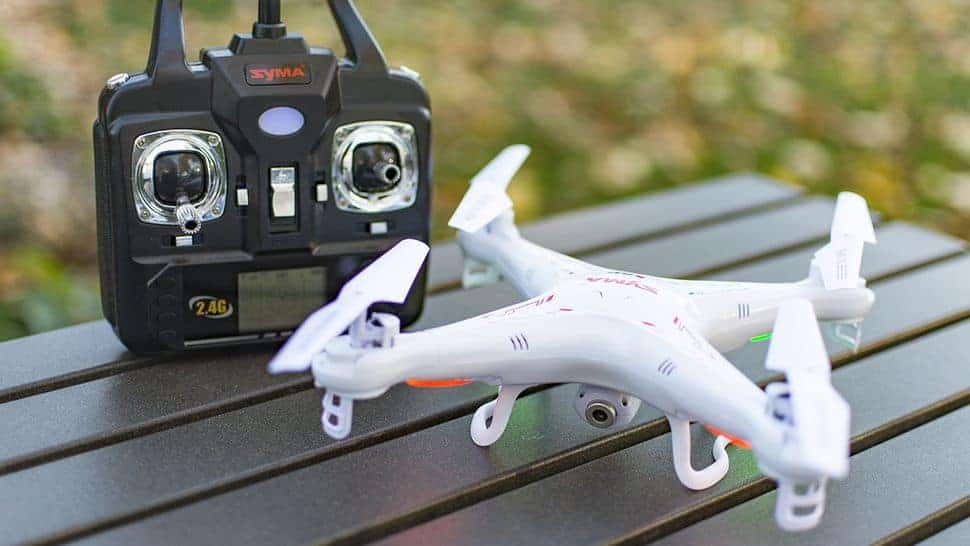 Set Up An Obstacle Course In Your Backyard
This can be a lot of fun depending on how expensive your drone is. Because this post is focused on newer flyers, I thought this activity would be good to do for two main reasons. One – It's Fun. Two – it takes your flying ability to the next level.
I used a Dozen or so pool noodles, a couple of garbage cans, kids slide to go under, and strategically placed bushes/trees and a garden shed.  It was excellent, safe, and inexpensive.
After running through an obstacle course a few times, you become a skilled pilot. You will benefit from this down the road if you purchase that expensive $$$ camera drone.
Check out this Backyard Race Course.
Aerial Photography
Depending on where you live, this can be a year-round activity for the whole family. We like to go out hiking or walking through the local trails. I bring my Drone with me and sometimes get epic aerial photos of the area.
It's gorgeous in the fall when the trees turn and after a fresh snowfall in winter. If you have a waterfall nearby or another place you enjoy visiting, remember to take it along with you. Avoid National Parks unless you get permission if possible.
Aerial Videography
Taking aerial videos with your drone can be amazing. My favorite time to do this is on vacation. It is perfectly safe to take your quad with you traveling. Depending on which country you go to will decide whether you bring it with you. Check the local Laws before you go.
The higher-priced Drones have some incredible camera systems. Likewise, the lower-rated entry-level drones have good camera systems that will do an excellent job for the average hobbyist. Your pocketbook and use case will decide the drone you buy.
Outdoor Activities
 Skiing/Snowboarding
This can be an exciting day on the slopes. Typically you would need a place to ski where there are not a lot of people around that day. A trail off the beaten track works well. A popular Drone for this activity is the DJI Spark (available on Amazon).
The reason I liked this drone for this adventure is that the Spark has some critical features for this type of activity. It has front obstinate avoidance sensors, the ability to follow you with its active track feature, and the best feature, it has the ability to follow you up and down the hill maintaining correct altitude.
It's a fun day, but you'll need a few batteries!
Water Sports
This would be similar to Skiing and Snowboarding except a little riskier because of the water. It's easier to use with no hills to climb or descend.
Using the DJI Spark or Mavic (available on Amazon) as an example, you can program your drone to follow you. Whether it's a water skier or your tubing, set it to Active Track (Follow me on most Drones), and you're good to go.
A couple of things you need to be cautious about, one is flight time. With the Spark it's only about 12-15 minutes max. The Mavic is a little longer. The last thing you want is to run out of juice. Also, remember to keep an eye out for other watercraft to avoid a collision.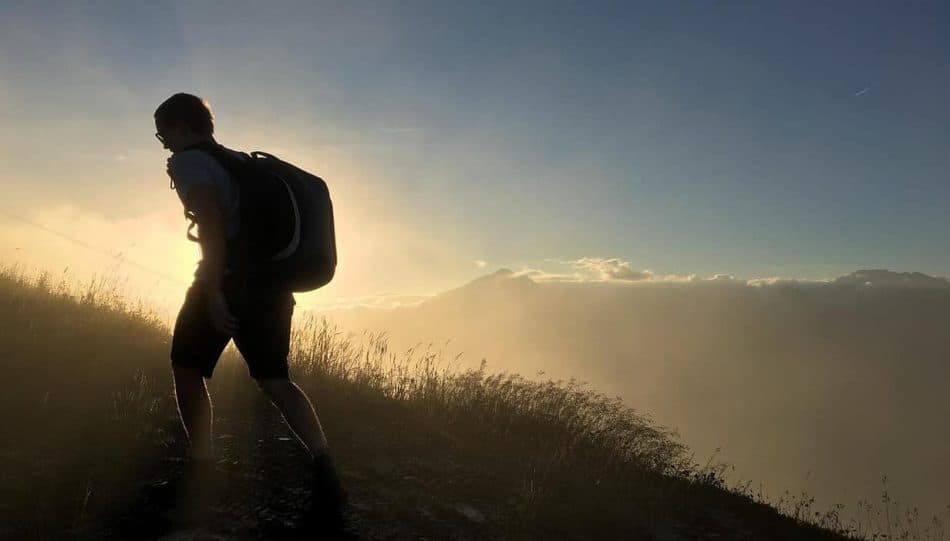 Back Packing or Hiking
I mentioned earlier about the opportunity to take some great pictures and video when you're out for a hike. If you like to backpack or hike up a mountain or you grab your backpack on vacation, your small drone can be your best friend. I have an article about BackPacking with your Drone 
Remember, in some countries, you can NOT fly in National Parks. Some Parks may give you permission for special activities
I found the best small Drone for this type of activity is the DJI Spark or the Mavic Air. (Reviews on Amazon) Both have their pros and cons but are great for pretty much everyone.
Mountain Biking/BMX Racing
One of the hardest outdoor activities to capture on video is Biking. Whether it's down a mountain, along a BMX Track, or through the woods, your drone needs to have the features and sensors to keep up.
If you're at the stage of purchasing a drone for outdoor activities, you may want to consider aircraft with lots of obstacle avoidance sensors. Follow Me mode (Active Track) is a must-have. Otherwise, it can end in disaster.
This type of flying is for more experienced pilots with lots of flying time under their belt. You approach video capture much the same way as Skiing and Snowboarding see above.
Drone Racing
This is a considerable area to look into. Drone racing is an exciting category in Drone ownership. If you like to build your own stuff, buy kits, and think racing Drones in abandoned Parking Garages, Arenas (To name a few spots) sounds exciting, it is. I'll have a whole section on Drone Racing on this website at some point, but that's another day.
In the meantime, you can check out YouTube for Drone Racing and DIY videos and get a sense of what's out there. It's a terrific hobby, Drone Racing, in itself.
Watch this short video for a little inspiration.
Before we go – Time for the Pilot Pre-flight Briefing
I won't spend too much time here other than to direct you to the sources for the best information on safety. If you have not registered your drone, you should. Depending on the weight you may not need to. Under 0.55 lbs or 250g, you're exempt in most countries.
Any activity you take up, safety is paramount. Please review the rules and regulations for your local Country/City/Area. The list would be endless here, but I have provided you with the big ones to get you started.
For the worldwide Drone Laws Here is a Master List By State and Country from an excellent source.
You're Ready For Takeoff
 I could go on with more cool activities. I'm trying to keep a focus on the Newer Drone Hobbyist.
I hope I provided a few ideas to get you started. I know I wished for a list like this when I started. I know it will help you have fun with your family and enjoy this great Hobby.  Fly safely. 
 I wish you much success. Stay out of the tree. ?