Air conditioners are one of those appliances that you can buy once every ten years. However, this means that you may have an older model that isn't necessarily a smart AC. So, how can you remedy this situation and make any air conditioner smart?
Here are 8 ways on how to make any air conditioner smart:
Use the Sensibo Sky.
Use the Cielo Breez Eco.
Use the BroadLink Smart IR.
Use the Atomi Smart AC Controller.
Use a smart thermostat (for HVACs).
Use a smart switch.
Use a smart plug.
Use ESPHome (for advanced users).
Read on to learn how to turn your old AC into a smart one. I'll cover a few different methods and price points and will also explain how to tell if your old AC is compatible with a controller.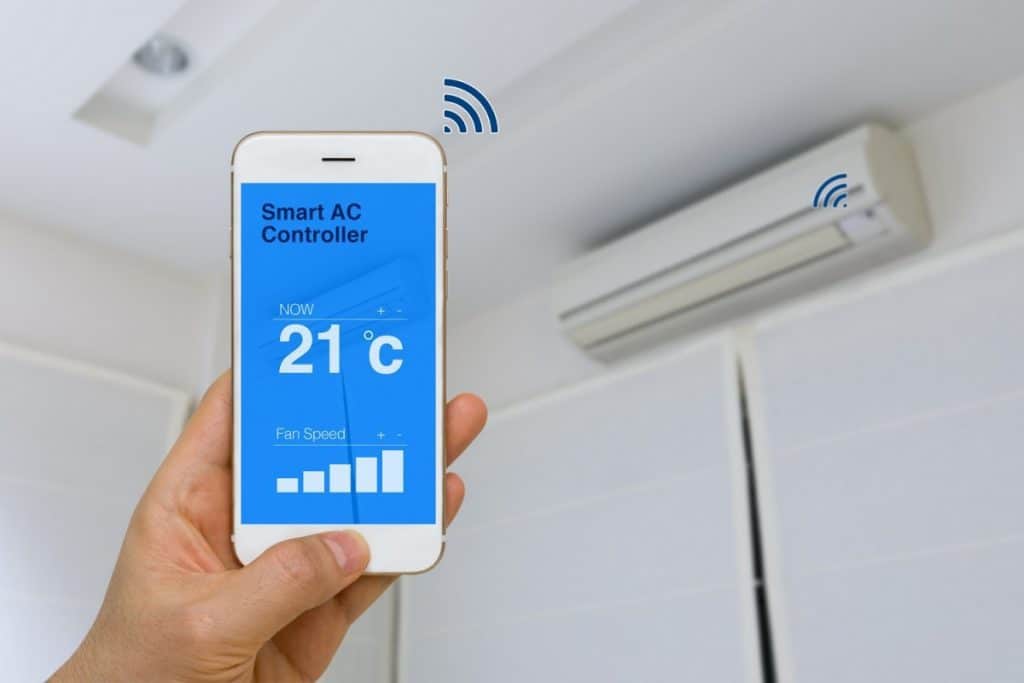 1. Use the Sensibo Sky
Sensibo is one of the most well-known brands in the world of smart homes. Their main product is the Sensibo Sky Air Conditioner System, which you can buy on Amazon.com. It's a gadget that lets you control almost any old AC, and it works with any popular smart home device, like Google Home, Amazon Echo, and Siri.
Sensibo claims that you can save up to 40% on your cooling bills. It achieves that by controlling the AC automatically.
It has geofencing, a smart feature that uses your phone's GPS to see if you're home. This is an incredibly convenient feature that I use all the time. You can use it to create a schedule for the AC to turn on or off whenever you want, and it also lets you control the AC remotely using your phone.
If you haven't tried geofencing yet, I definitely recommend that (and not just because it's my favorite method). With this method, you can make the AC turn on when you're 5 minutes away from home.
That said, make sure to remember to turn it off when you don't need it. For example, you don't want to waste electricity on cooling when visiting a neighbor or buying in your local supermarket.

Before you get the Sensibo Sky, check for compatibility. Go to the Sensibo webpage, and type in your AC brand and model.
Sensibo Sky is super simple to set up, and you don't need to be tech-savvy to do it.
Here are the steps on how to set up Sensibo Sky:
Plug-in the included USB cable and adapter.
Mount the Sensibo Sky to the wall. You can use the included adhesive tab or hang it on a screw (just like a painting).
Download and install the Sensibo app from the Google Play Store or the App Store.
Open the app, sign up, and choose the Sensibo Sky on the device list.
Scan the QR code on the back of the Sensibo Sky.
Give the AC a name and connect to WiFi.
Synchronize the Sensibo Sky with your AC remote.
Point the remote and press the power button.
Just like that, your Sensibo Sky now works with the AC. You can use the app to control your trusty old AC.
If you're having issues, check again if your AC is compatible with the device. If it is, restart your AC, phone, and Sensibo Sky, and try again.
2. Use the Cielo Breez Eco
A more affordable alternative to the Sensibo Sky that's just as good is the Cielo Breez Eco Smart AC Controller.
It also comes from a reputable brand and has many of the same features.
The main advantage is that you can control your AC directly from the device. This is a huge plus because pressing a button is sometimes easier than browsing through your phone. Furthermore, the Cielo Home app is arguably better than the Sensibo Sky one.
Like with the Sensibo Sky, Cielo has a webpage that lets you check compatibility with your AC.
Note that it looks for the remote control model, not the AC unit model name. As a result, compatibility is somewhat better on the Cielo Breez.
The Cielo Breez also has geofencing and works with Google, Alexa, and Siri. It even lets you control the AC on your computer through the browser. It also has a humidity monitoring feature, which I find very useful, especially in winter.
You can get the Cielo Home app from the Google Play Store or App Store and follow the instructions to set it up.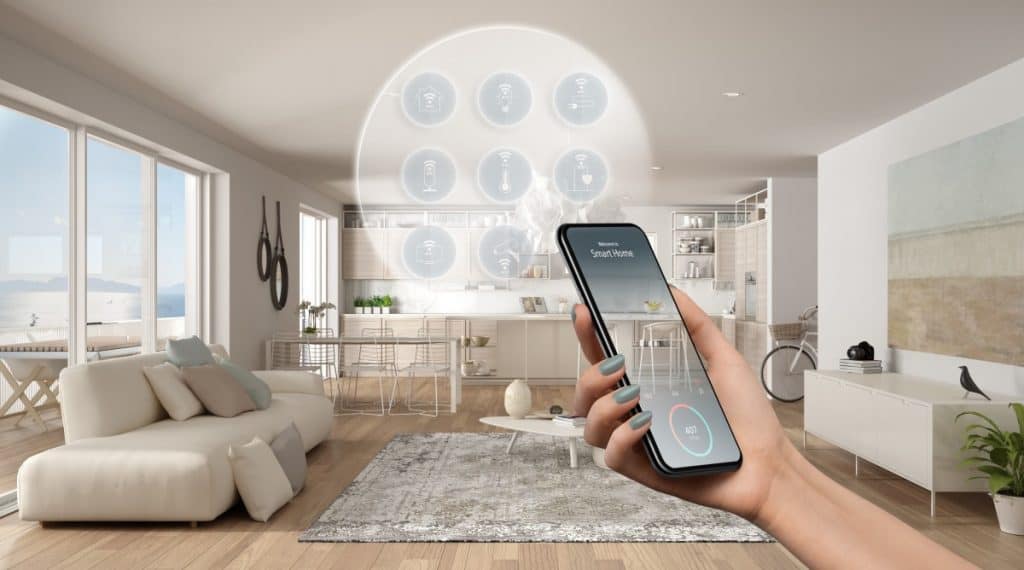 3. Use the BroadLink Smart IR
Do you want something even cheaper that still gets the job done? Then the BroadLink Smart IR Remote Control Hub from Amazon.com is for you!
In a nutshell, it's similar to a universal remote control, but for ACs. While it doesn't have all the features that the Cielo Breez Eco and Sensibo Sky (like geofencing), it still has a humidity sensor. Furthermore, it has excellent compatibility and is advertised to work with over 50,000 different IR-controlled appliances.
You can use it to control almost any IR-controlled home appliance. This means you can manage your AC, TV, amplifier, video recorder, and more from a single app.
You can get the app for Android or Apple. Then, select the air conditioner in the list of compatible devices and follow the instructions. You can use Google Assistant and Alexa to control all your home appliances, not just the AC.
It's a perfect hub that can truly transform your home for very little money. If you're into home automation, you'll love this handy little gadget.
4. Use the Atomi Smart AC Controller
Let's go even cheaper. If you don't need the additional controls that the BroadLink IR Hub offers, the Atomi Smart AC Controller from Amazon.com is perfect.
It's one of the cheapest ways to make your old AC smart, and it still works like any other AC remote controller.
You can get the Atomi Smart app on the App Store or Google Play Store and can also get it on a Desktop from their official website.
It has a surprising feature set for such an affordable device. It works both with Amazon Alexa and Google Assistant for voice commands, it has temperature monitoring, and it even lets you create a schedule.
Note that the features depend on your AC remote. If your remote has an LCD, you'll have a few more features, including being able to create unlimited presets.
So, if you want to save a bit of money, get this device. It's a low-price device that can make your life much easier.
5. Use a Smart Thermostat (for HVACs)
If your home uses an HVAC system, you'll need a smart thermostat. A regular AC controller won't cut it.
But a smart thermostat offers greater functionality. Let's look at two of the most popular smart thermostats available on Amazon.com. You decide which one is better for your family. These are:
Ecobee Lite Smart Thermostat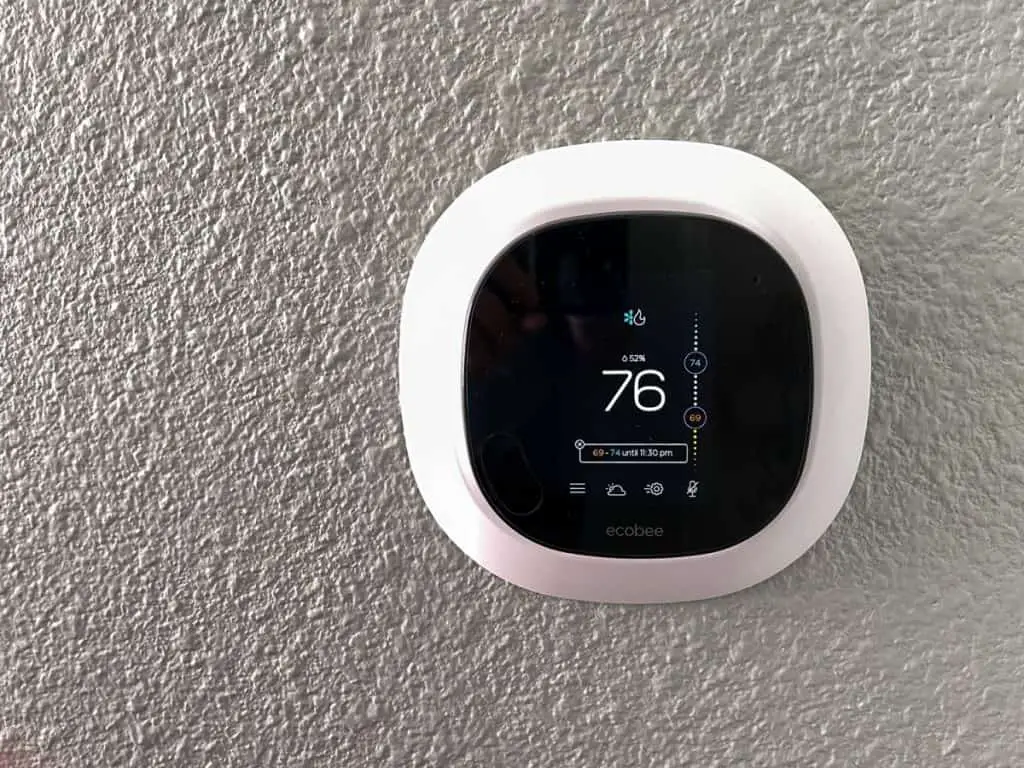 Ecobee has some incredible smart home gadgets, and the ecobee Lite Smart Thermostat is no exception.
It has a gorgeous, minimalist design with a high-tech display. One of my favorite details is the snowflake or flame icon that shows up when you're cooling or heating your home.
This smart thermostat is a perfect choice if you're obsessed with automation. You can combine it with the ecobee Smart Sensor (also available on Amazon.com).
The sensor can sense if a door or window is open and automatically turn the thermostat off. The sensor doesn't need any wires either. It works on batteries, so it's super easy to mount.
Of course, the ecobee Lite Smart Thermostat can also monitor humidity levels. It also lets you create schedules. The only major downside is that there's no geofencing.
Ecobee claims that you can save up to 23% on your heating and cooling bill. So, the device will pay for itself in just one or two years.
Emerson Sensi Wi-Fi Smart Thermostat
If you can't live without geofencing and want to save some money, the Emerson Sensi Wi-Fi Smart Thermostat is the smart thermostat for you.
It also advertises up to 23% savings for heating and cooling. It's also Energy Star certified, which means that it's more ecological than other smart thermostats.
You can replace your old thermostat in less than 30 minutes with this one.
Naturally, it has all the standard features you expect in a smart thermostat. It has humidity and temperature controls, scheduling, and voice control. It works with Amazon Alexa, Google Assistant, Apple HomeKit, and even Samsung SmartThings.
The sole fact that it works with so many voice assistants is enough to convince many.
6. Use a Smart Switch
If your AC is wired to a switch, you can replace your current switch with a smart one. It's not the best method to control an AC, but it works.
For starters, a smart switch only lets you turn the AC on and off. It enables you to do it remotely, but you can't adjust the temperature, fan speed, or how long the AC will work.
Nonetheless, it's a viable option. A smart switch is a good replacement for old switches in general.
If your AC is so old that it doesn't even have a remote, then this might be your only option.
There are several smart switches on the market to choose from. The most popular one is the Kasa Smart Switch (available on Amazon.com). This switch has voice control with Amazon Alexa, Google Assistant, and Microsoft Cortana. Additionally, it lets you create a schedule, which is perfect for an AC.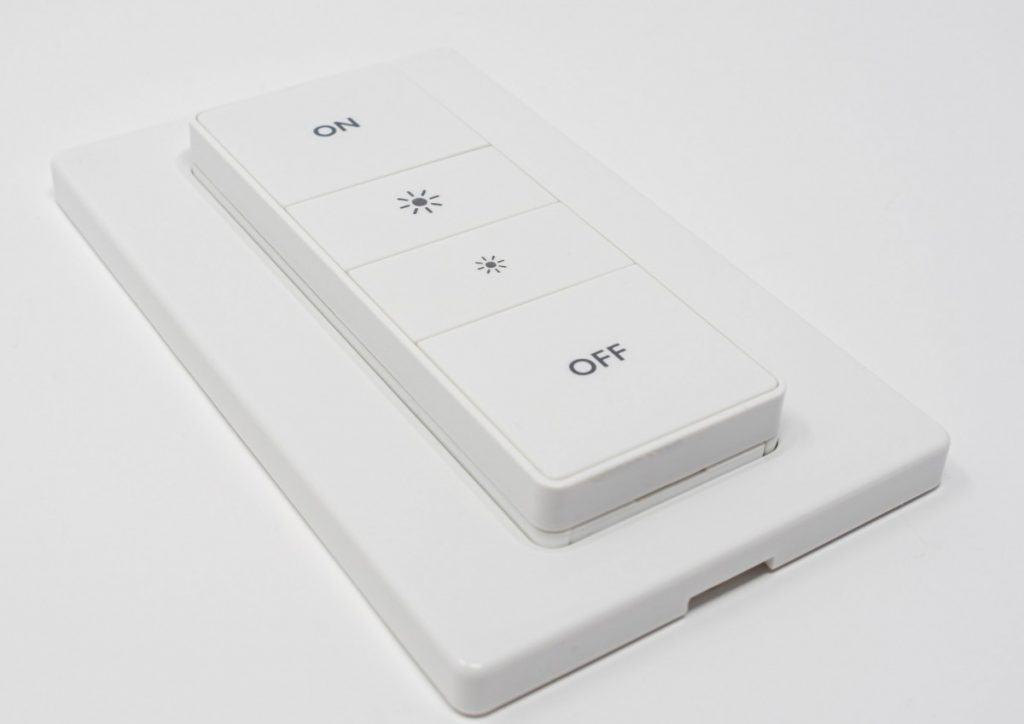 7. Use a Smart Plug
If you have a portable AC or any kind of AC that plugs directly into an outlet, you can also use a smart plug.
A smart plug with any home appliance, not just an AC. They go between your outlet and the AC cable.
The same things I mentioned for switches apply to smart plugs too. They let you create a schedule or turn it on and off remotely, but not much else.
I recommend the Kasa Smart Plug (available on Amazon.com). It has voice control, works via 2.4 GHz Wi-Fi, and you can control it remotely via the Kasa app.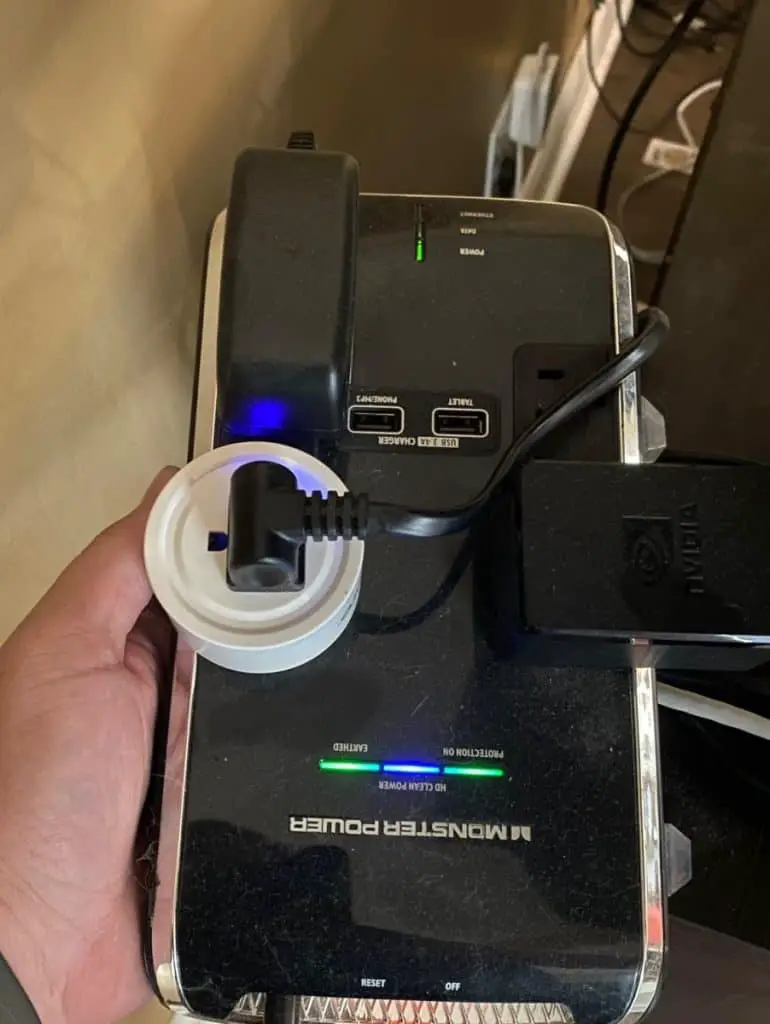 8. Use ESPHome (for Advanced Users)
This option is only for the tech-savvy people out there. If you want to do some fun tinkering, then you'll be happy to hear that you can do it to your AC.
Keep in mind that this requires some basic knowledge of coding, which is why I mentioned you need to be familiar with the technology.

While you can find a professional to help, if you're savvy enough, you can save a ton of money by doing it yourself.

You can integrate voice control, schedules, remote control, and everything else with the help of an ESP8266 chip.
You use the microchip both to connect to your WiFi and to remote control the device.
Thomas Friberg goes into great detail on how to connect an ESP8266 chip to your AC.
Watch his YouTube video explaining the process:
If you need an ESP8266 chip, get the KeeYees Development Board (available on Amazon.com). It's an affordable board for programming that comes with built-in WiFi.
How To Check if Your AC Works With a Smart AC Controller
Virtually all the AC controllers I mentioned use infrared technology. This is good because most ACs already have an IR receiver built into them, and all remote controls use IR to send signals to devices.
Essentially, if your AC has a remote, it'll probably work with a smart AC controller. However, I'd never buy a device without checking to see if it works with my AC.
I recommend that you do the same. Go to the product's official website and check compatibility. I already explained how to do it for the Sensibo Sky and Cielo Breez Eco.
Even so, your AC doesn't have to be on the list to be compatible. There are thousands of AC manufacturers in the world. The AC controller manufacturers only test the most well-known brands.
So, if your AC isn't on the list, don't fret. It might still work. You can ask a friend or relative if they want to buy an AC controller. Test theirs before you get it for your home.
Alternatively, buy one of the cheaper controllers to test it.
Final Thoughts
You can make any air conditioner smart. If it uses a remote, chances are it'll work with a smart AC controller.
If it doesn't, you can still wire it through a smart switch, smart plug, or jerry-rig it with an ESP chip.
Adding an AC controller lets you turn the AC on remotely, create schedules, use voice commands, monitor temperatures, and much more.