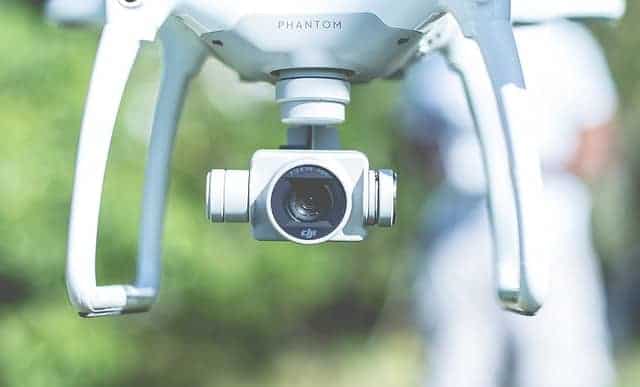 Pro Tips for Taking Better Vacation Photos with Your Drone
Drones provide travelers the chance to capture one-of-a-kind memories while on vacation. Whether you are new to drones or an avid pilot, taking high vacation images with your Drone may involve techniques and accessories that you may not have or are used to utilizing.
In this article, we will provide you with some tips and tricks to get the most out of your vacation using a drone to memorialize the occasion.
Can I take great vacation photos with my Drone? Drones allow you to make amazing videos and photos while traveling. The options available on many drones offer users a chance to experience their vacation in new and exciting ways.
Destination vacations can be captured from multiple viewpoints providing you with endless possibilities to remember your trip and relive the experience, using both still photos and videos.
Tips for Taking Better Vacation Photos with Your Drone
When taking a drone on vacation, there are some tips and tricks to make the experience much more enjoyable. Read on to discover some of the best tips for taking better photos on vacation, using your Drone.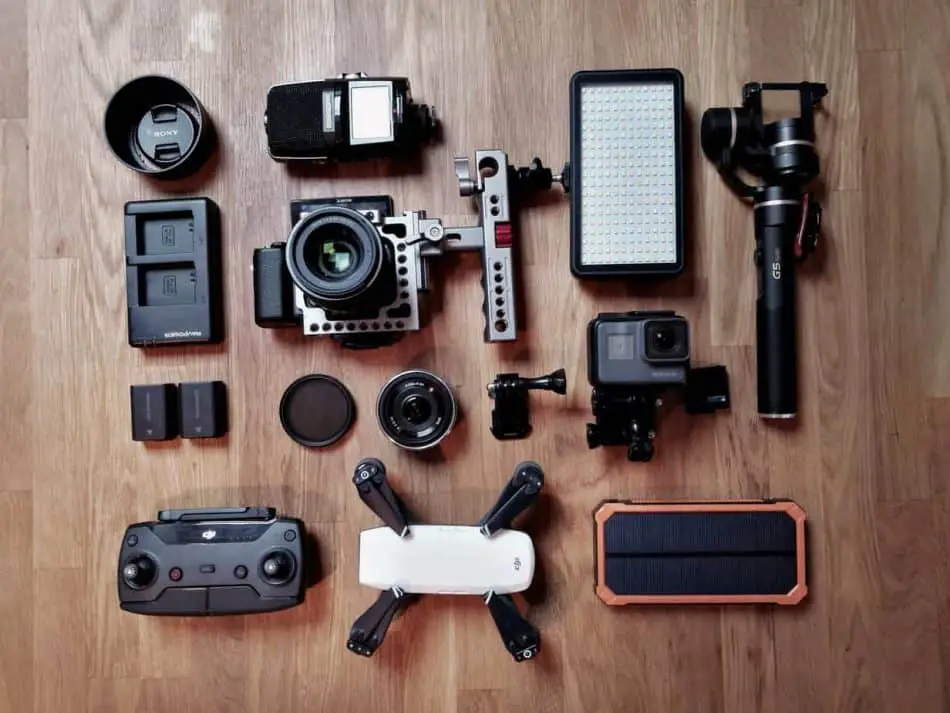 Packing Your Drone for Travel
Following a few simple tips will help to ensure safe traveling with your Drone.  Some of these include:
Keep Your Drone Safe – Make sure you have a rugged case designed to carry and protect your Drone and all your accessories from damage during travel.
Depending on the size of your Drone, you may be able to take it on an airplane, while bigger drones will require them to be checked as part of your luggage.
Travel Restrictions for Drones – Some countries have strict laws that regulate or even ban the use of, or possession, of drones.
Make sure to research your destination to ensure that your drones plans are not derailed by-laws or regulations that may even cost you your Drone or other additional penalties.
Pack Extra Batteries– When possible, you may want to take extra batteries for your Drone. When flying, airlines may restrict the number of batteries you can carry or check. In general, small watt-hour batteries, under 100 Wh, are not limited, while larger batteries may be limited to as little as two
It is also essential to check with all airlines that are part of your travel plans. Just because your flight to your destination on one airline allows extra batteries doesn't mean they all will.
If your return flight is on a different carrier, there may be stricter regulations. Check all airlines before traveling. We have an excellent article about Traveling with your Drone here and a good article about taking your Drone on a Cruise here. Print and carry any airline-specific regulations about the transportation of drones, including batteries. That way, if you are challenged by an employee of the airline, you can have tangible evidence of their requirements. 
Here is a helpful link to check before you travel. You may be able to find key information about local Drone Laws.
Recreational Drone laws of the world
What Accessories or Features Does My Drone Need to Take the Best Vacation Photos?
Some accessories or features can be a huge plus for improving vacation photos, others may not be worth the cost. We explain many of the most sought-after features and accessories to allow you to decide if they may be something you need, or want, to add to your Drone.
Size/Weight
Drones come in all shapes and sizes, some drones even fold for more accessible transport. When taking a drone with you on vacation you will probably prefer a lightweight drone.
In many cases, even these smaller drones offer fantastic picture quality without the extra bulk.
 Gimbal
Gimbal allows the camera to move along one or more axes. Drones can be equipped with up to a 3-axis gimbal, but is there any advantage of using a 3-axis over a 2-axis? Do you even need a gimbal?
The most significant advantage of using a gimbal is that it reduces the shaking during recording. This is especially important for beginner drone operators that may not have a steady hand while controlling their Drone.
A simple way to imagine gimbal is by comparing it to a joint that keeps the camera on your Drone from moving with every movement of your Drone.
While flying a drone with a 2-axis gimbal, the Drone can bank right/left or move up/down while the camera will stay stable, making your video capture cleaner, reducing shaking and vibration.
A gimbal can also be used to adjust camera angles in-flight for more dynamic views
A 3-axis gimbal can do everything a 2-axis can do with the added benefit of being able to stabilize the camera while the Drone is rotating.
This is great when you must navigate your Drone around obstacles and do not want it to have much or any impact on your images.
Video Capacity
When comparing drones, you will quickly notice that drones can have many different video capture abilities. Two popular options are 4K and 1080p, but what is the difference?
For some individuals, the difference between videos shot in 4K and those shot in 1080p will be almost unnoticeable. Others can spot the difference immediately.
So how do you choose? Let's look at the differences to help you decide.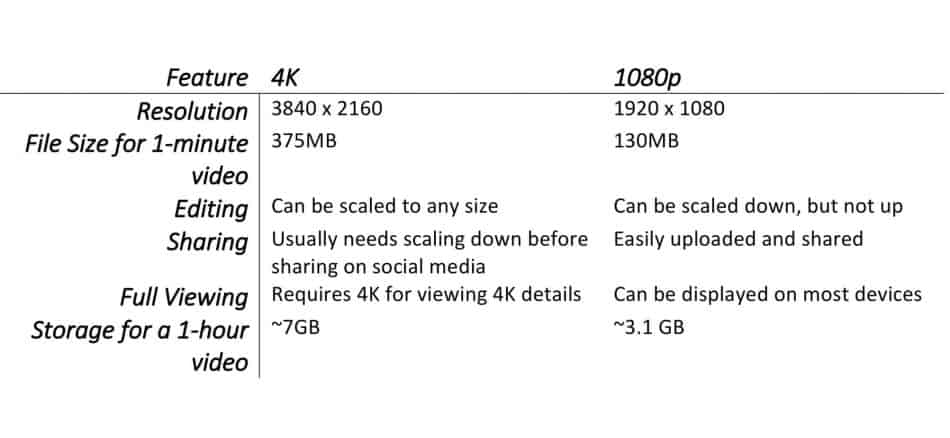 Intelligent Flight Modes
Some drones feature advanced flight features that allow you to program your Drone. Some of the most advanced intelligent flight modes are explained here:
Course Lock
Course lock was one of the first advanced flight features. Course lock allows you to set the direction of your Drone. This is especially useful for beginners who struggle to fly straight, or if you want to capture video from a fixed point of view.
Home, or Return-to-Home
This intelligent flight mode helps to ensure that you can return your Drone back home if you happen to lose sight of your Drone. When the flight mode is activated, the Drone keeps track of all movements so that it can quickly locate the home position. When commanded, the Drone will return to the home location, usually the point of take-off.
ActiveTrack
Not every drone pilot is always perfect at capturing a moving object and keeping it within the frame of the video. ActiveTrack allows drone pilots to select the object or persons for the Drone to follow.
The Drone will continue to record the action without you having to worry about keeping your subject in the frame constantly.
IMPORTANT NOTE** We have an in-depth review of all the different flight modes and what they do in the article on our website. If I can make a suggestion, please practice using the different flight modes your Drone is equipped with.
It will make for a much less stressful and safer vacation. You'll also lower the risk of losing or crashing your Drone
Ideas for Vacation Shots
You can capture some truly amazing photos and videos using a drone on vacation. If you are anything like me, the hard part is coming up with ideas for shots.
Here are some ideas to help you out, and hopefully, they will inspire you to add your own.
Choose A Different Perspective – whether you fly out to capture a wider frame or fly high overhead, capturing shots from a different perspective than photos from the ground, will provide tons of exciting and unique shots.
Use Your Surroundings – are you vacationing near a sandy beach, or maybe a snow-covered mountain top? Use these as an opportunity to capture stunning pictures of your own creations in the sand or snow. Bet you can't do that with a point and shoot camera
Embrace the Light – Sunrises and sunsets provide opportunities to capture some truly breathtaking images. Using the sun as a backdrop allows you to capture you, or your travel companions in silhouette, for a unique photo op
Break Away from The Average – Everyone has seen the same images repeatedly of a couple standing in front of a monument or some other point of interest.
Take your shots to the next level by imagining different ways to capture the moment. One fantastic idea is to capture yourself from the monument's perspective, this can provide some absolutely unique photos.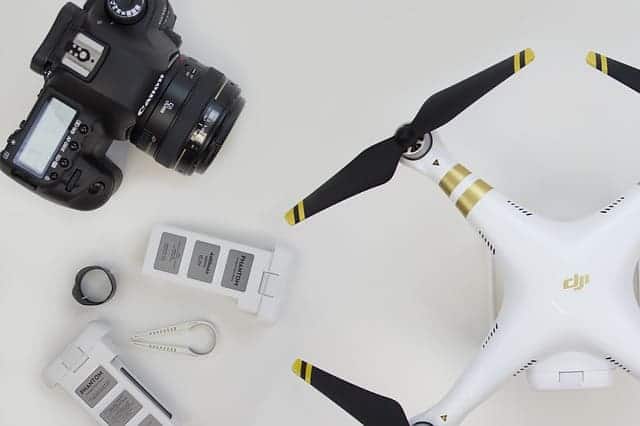 Know Before You Fly
Now that you have some tricks and tips for taking amazing images with your Drone, you need to know if you can even take your Drone with you on vacation.
Laws and regulations regarding drones can, and do, vary significantly from location to location. They are also continually changing. While there are only a few destinations that have complete bans on drones, many have restrictions for flying drones, as well as capturing images.
There is one sure-fire way to get the most up to date information on the drone regulations by destination.
The FAA (Federal Aviation Association) in partnership with other agencies have developed smartphone apps for drone pilots to get information on regulations for any area they chose to visit and hope to fly their Drone.
B4UFLY is a free app available for iOS and Android that has been around for a little while. This app offers the ability to check the specific area for flight restrictions, links to additional information, as well as the option to plan for future flights.
In partnership with Kittyhawk, a new app is being developed that will surpass the features available with B4UFLY. The updated app is set to be released sometime in 2019.
In addition to being able to check for location-specific drone restrictions, pilots will be able to automatically sync flight data, obtain authorization from the FAA for their controlled airspace, create stunning live stream videos, and much more.
You can also review the Top 15 APPs every Drone Pilot should have on their device. We have this Article on our Website for you.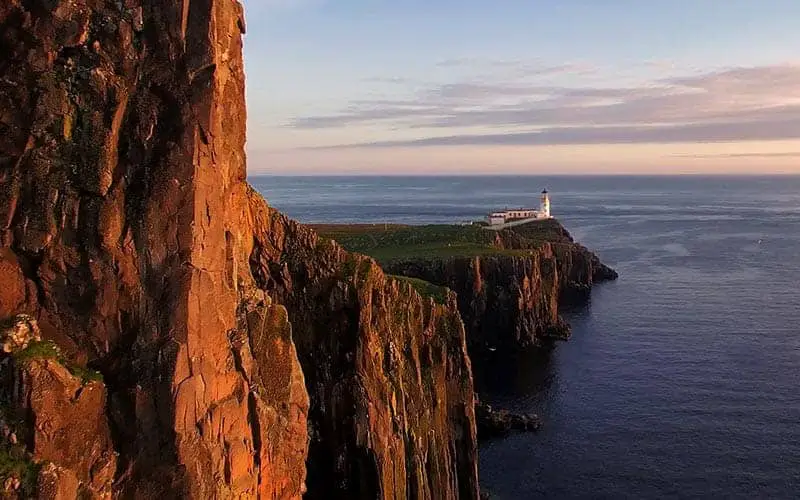 Our Final Thoughts,
We hope this article has provided you with some valuable information to up your photography game on your next vacation. Always remember to keep you and your Drone safe … Happy Flying!
I wish you a safe flight. Stay out of the Trees!