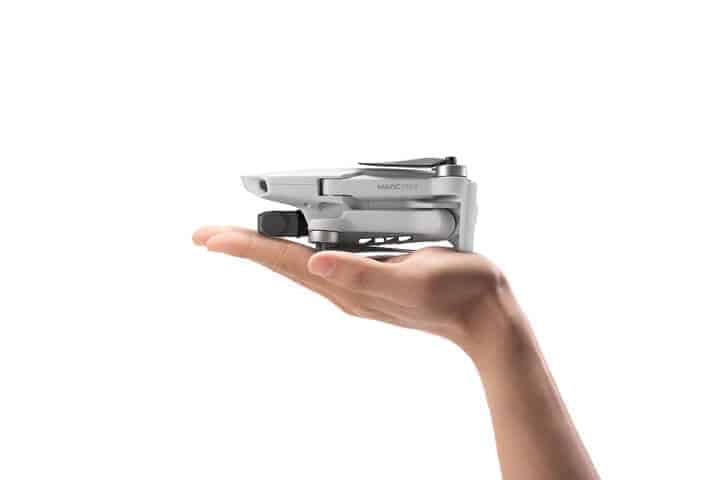 Is The DJI Mavic Mini THE Best Drone Under 250g?
Drone enthusiasts around the globe are rejoicing as the Drone manufacturing giant DJI has finally released a replacement for the entry-level Spark.
In November 2019, DJI announced the newest member of the Mavic Family, the Mavic Mini. It's actually almost as compact as your smartphone. It takes amazing 12 MP Stills and 2.7K footage with an epic flight time of around 30 minutes. That in itself is remarkable for such a small Drone Check out all the great reviews on Amazon for the Mavic Mini
All Photos Courtesy of DJI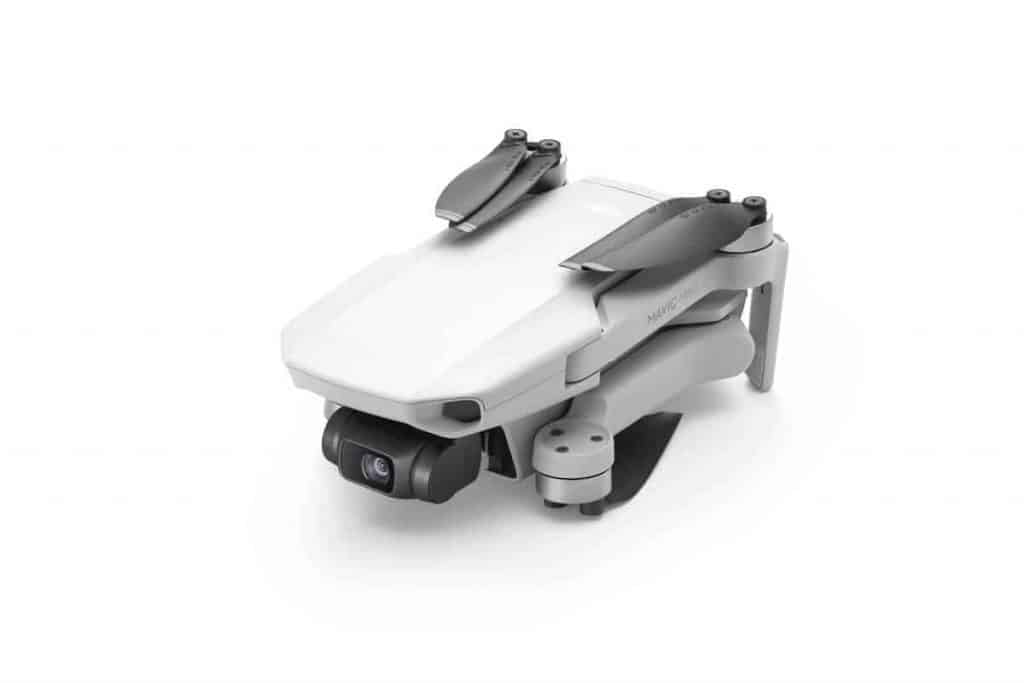 The Best Drone Under 250g
From first glance, this new Foldable, entry-level Drone looks awesome. The most exciting feature? It weighs LESS than 250g. This is huge!  It means in most countries you will not need to register this Drone. So, in Canada and the USA, no registration required.
 I predict this Drone will be the most popular entry-level Drone in the world by Christmas 2020.
Having a look at the specs, it looks really good.  This would be the perfect starter Drone.  The initial flight reviews all indicate it is really easy to fly. It would be a great Drone to get if you're just starting out or get your kids one for Christmas or a Birthday.
I put together a great ebook Should I buy My Kid A Drone For Christmas? It's everything you need to know before and after buying your first Drone.
Is it safe to fly?
The new Mavic Mini by all reviews is very easy to fly. Most importantly DJI puts safety first.  Because it's an entry-level Drone it's designed for everybody, Kids, Mom, Dad, everyone.
The Mavic Mini fly more combo comes equipped with easy on-off Prop guards. this is important because a fun little Drone like this will no doubt be used in the back yard with the whole family involved. The guards will provide safety from bumps and protect the Quad from crashes that are inevitable.
The prop guards are also nice if you live in the Great White North, or anywhere it's cold. If you get one over the winter season you will be able to fly this little guy indoors.  We have an article about flying your Drone indoors here on our website.
For added safety, the Mavic Mini has a smaller version of its vision positioning sensor to help keep it in a stable position and help with softer landings. with the included onboard GPS hovering and being stationary is very good as well.
This makes the Mini easy to fly. With GPS if you ever get disoriented you can let go of the controls and the Mini Will hover in place while you get yourself organized.
The DJI Fly app works on almost all smartphones. This app has tutorials for you to review. This will help if you are a newbie. Pro Tip… What I like to do with my app and controller is I mount my iPad Pro on a camera tripod and hook it up to the controller.  WOW, what a view!  Try it.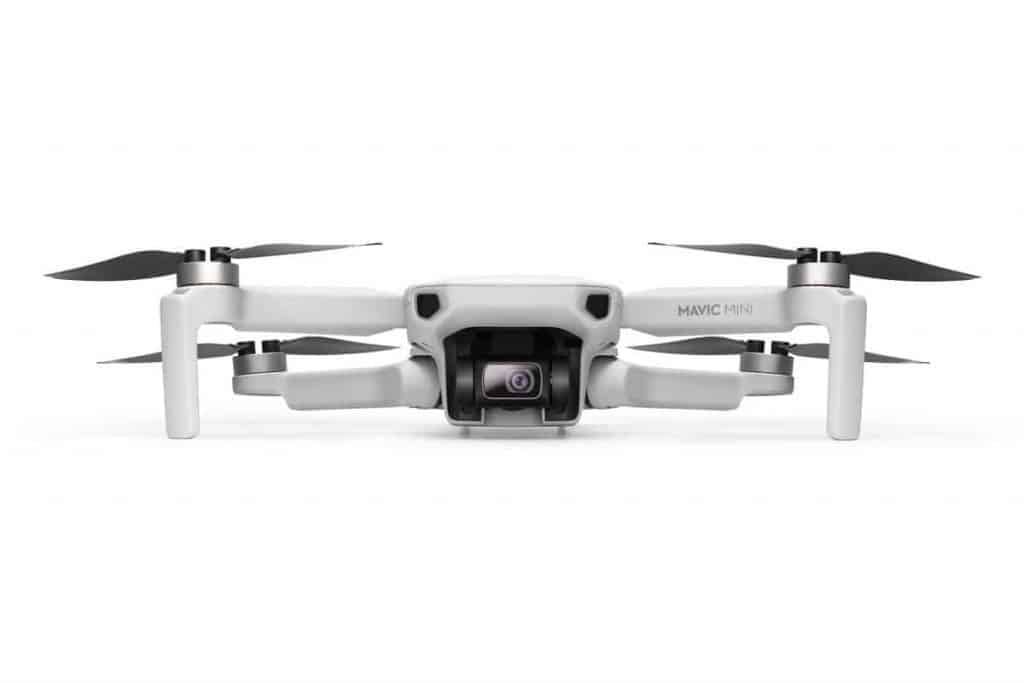 Good Things Come In Small Packages
DJI's New Mavic Mini may be tiny but it packs a ton of powerful features in its class. Let's start with the camera. To begin with, it comes with a 3 axis stabilized camera gimbal. 
This is outstanding on a Quad this size. The camera is 12MP for clear still shots and shoots up to 2.7K video at 30FPS. This is more than enough quality for an entry-level Drone. In my opinion.
 Other features include DJI's Quickshots, a new mode called CineSmooth. This mode controls the Minis Speed and movement, to give you a nicer cinematic look to your videos.  All the modes are accessible through the new DJI Fly App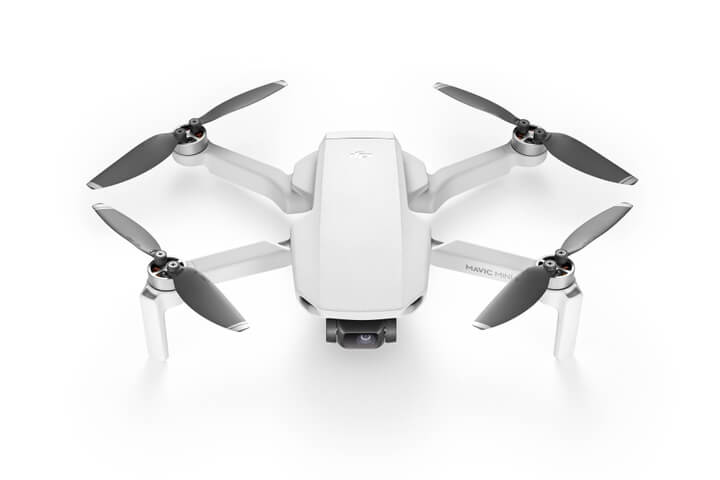 Mavic Mini Battery Performance
What I found really amazing about this little Drone was the consistent reviews talking about the 30 minutes of flight time. This is remarkable in a Drone this size.
In real-life use, I would imagine the actual flight time to be closer to 25-27 minutes. That's speaking from experience. I have owned about 8 Drones and the time on the box and the time in flight is never the same.
Great For Backpacking and Travel
What I really like with the extended flight time is this will be a great Drone to take Backpacking and Hiking (see our article of Backpacking here).
It's foldable and lite and you can pull it out of your bag multiple times on a hike to get great shots along the trail. I can see taking this on a vacation, or even a cruise
While we are talking about ways to put this little guy to work, if you're in the Real Estate business and didn't buy a Drone because of all the restrictions, now you have no excuse.  We have a great article about using a Drone for Real Estate here.
As I mentioned earlier, I'm super excited about this Drone.  I think there will be a ton of people interested in this entry-level Quadcopter.
With its small form factor, excellent camera, fully-featured flight modes with a GPS, I think it will be a big seller. If only because it's an amazing little Drone UNDER 250g. No registration required,
 Ready To Buy A Mavic Mini!!?
So…where can you get one? What's in the Box
Currently, it's available directly on the DJI website here. It is also available at your local DJI dealer including Amazon. Check out the great reviews here on your local Amazon if available
If you are wondering about buying a Drone direct from China, I did it and it was very easy and a smooth transaction. Check out my article about it here
Depending on when you read this, It's shipping with two options.
Nice Quad under 250g or 0.55 lbs
The Mavic Mini has exceeded my expectations. It is really a great little Drone under 250g. It's safe and fun to fly no matter what your age or experience. I wish you a safe flight.  Stay out of the trees! If you're flying indoors, watch the curtains! Nasty